Kid's Dentist in Madison
Madison Dentist for Kids Offers an Experience Like No Other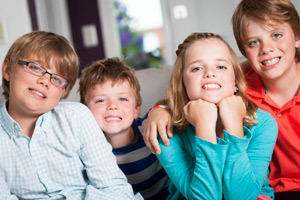 Total Care Dental's practices are all about making the dentist a rewarding experience for kids. A little extra time and attention ensures kid's visits are special and lets them have fun at our Madison family dentist! We work to make sure our dental practices are rewarding for children, and encourage great oral health habits to last a lifetime. At the end of pediatric dental appointments we give kids balloons and prizes. When kids have a pediatric dental check-up with no cavities, they get to enter the Kids Club for a chance to win a gift card to Toys R Us!
Expert Madison Dentists for Kids Recommend Starting Young
We recommend children be seen by one of our Madison family dentists at Total Care Dental for the first time around age 3 or when their first tooth is visible. Creating a strong rapport on a child's first visit helps to create a comfortable environment where there isn't anything threatening or frightening to the child. Judgments often come as soon as the child sees the doctor's appearance and gestures or hears the dentist's voice during the first visit. Eliminate the stress of having a bad first dental visit for your child by creating a positive atmosphere and don't say anything negative prior to the visit that might forewarn your child of ill feelings they may have.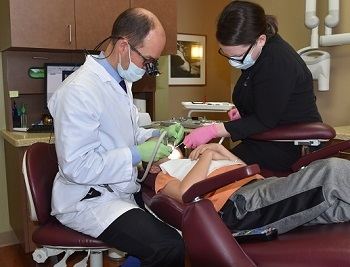 It's been proven time and time again, reinforcement is much more effective than punishment of any sort. Telling a child what will happen if they don't brush their teeth is a form of punishment. Instead, it's best to tell them the benefits of brushing their teeth and taking care of their mouth.
Typically, children stop brushing their teeth if they are not made to do it, and if the negative effects are not seen soon enough after they stop brushing their teeth on a regular basis, the child will conclude that not brushing their teeth is a perfectly acceptable behavior pattern to adopt—the behavior is reinforced.
Encourage your child to brush their teeth because brushing produces beneficial outcomes. Take them out to the ballpark after a dentist appointment. Reward the behavior, and it is much more likely to continue.
Our Preventative Dental Care Philosophy

Our preventative dental care philosophy includes pediatric dental examinations, x-rays as necessary, the use of pit and fissure sealants, fluoride treatments, and regular cleanings. Typically, the dentist checks for decay and looks at your child's gums, jaw and bite. Our Madison family dentistry professionals discuss good oral-hygiene habits and answer any questions you have about thumb sucking, toddler teething, what foods are tooth-friendly for your child and more. From creating a positive atmosphere to encouraging good oral habits for a lifetime, our dental experts keep your child's needs in mind.
Many parents don't realize that dental health can have a direct correlation to your child's performance in school! Healthy teeth and regular dental checkups can lead to higher levels of self-esteem, lower levels of oral discomfort, and more overall academic confidence. This is why it is important to take your offspring for twice yearly checkups and teeth cleanings at Total Care Dental. By preventing cavities and gum diseases, your child will miss fewer days of school as a result of needing treatment. Healthy oral hygiene habits will help your children have strong, vibrant smiles to carry them into successful adulthood.
Madison Dentists for Children Create Kid-Friendly Zone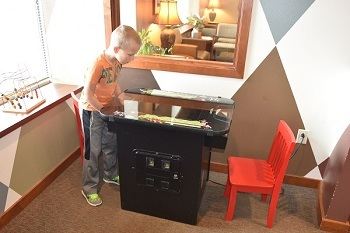 Our great Kid's Zone, created by child-friendly Madison dentists, is the perfect place for kids to play before and after appointments! It's stacked with toothsome books, games, and TV for kids to enjoy. We also have a classic cocktail table arcade game, so kids can play Ms. Pac-Man and Galaga too!
The Kid's Zone is part of our efforts to make kids feel comfortable when coming to the dentist for the first time, or even for returning visits. It is not uncommon for children to be afraid of the dentist before entering the office. They come in for their first appointment with unappealing views of what happens at the dentist. Get your kids into the dentist as early as possible, before they develop friends who have seen popular media portrayals of dental horror stories. It's the same thing as brushing our teeth—developing good habits early on in life is the best way to ensure those behaviors continue throughout the remainder of our days.
Switching dentists can also be a scary experience for kids. The setting is different. The people are new and unfamiliar. People are generally hesitant of the things they don't know. The Kid's Zone at Total Care Dental in Madison is a great way to have your kids relax when switching dentists. Even older kids love the cocktail table arcade game and watching TV.
We make the dentist a positive part of people's lives. A healthy mouth is a great indicator of a healthy human being, and a confident smile is often the product of having a healthy mouth. Enjoy life and smile without having to put your hand up to cover your teeth.
Bring your kids in today and experience the Total Care Dental difference!
Contact our Madison dentistry for kids online or call our professionals at 608-274-1911!
Questions to Ask Your Child about Their Teeth
Kids might not always know their teeth are in trouble. They might not notice if an adult tooth is loose because they're used to their baby teeth wiggling. In fact, many kids ignore problems with their teeth since they don't know how to identify what is wrong. If you're worried your child might have dental problems, try using the following questions from Total Care Dental to get learn more:
"Does anything hurt or feel different?"
While it might seem obvious, the most direct approach sometimes works. With kids constantly growing and going through so many changes, they might not realize a permanent tooth shouldn't be wiggling or their gums shouldn't bleed while flossing. Make it clear your child is not in trouble, as they might be embarrassed to realize their mouth isn't as healthy as they thought.
"How do you brush your teeth?"
Ask your child to demonstrate how they brush their teeth. Even if they're old enough to do the task by themselves, they might not be brushing long enough or getting hard to reach spaces. The suggested brushing method is to make small circles over the surface of each tooth to remove plaque and leftover food.
"Do you like your toothbrush?"
If the brush is too big, your child might not be reaching their back teeth and only brush their front teeth instead. The dentists of Total Care Dental will help your child find the right sized brush for their mouth.
"Do you like your toothpaste?"
Fluoride toothpaste can sometimes be overwhelming to younger kids. There are many types of toothpaste designed with kids' tastes in mind to encourage regular brushing. Or try getting a tube of toothpaste with their favorite movie or TV character on it. Next time you're at the store, let your child select their own toothpaste to get them excited about brushing.
"Do you know how long to brush?"
The ideal amount of time to brush is 2 minutes. Since 2 minutes can feel like a very long time for a child, many will go much faster, resulting in a haphazard cleaning. There are some electric toothbrushes which come with lights or sounds to help kids brush for the necessary amount of time. Split up the two minutes if your child is younger or has trouble concentrating. Set a timer so they know how long they have left.
"How many times have you brushed today?"
Try to ask this before your child gets ready for bed. If they missed brushing their teeth earlier in the day, you'll want to make sure they get a quality brushing in before going to sleep.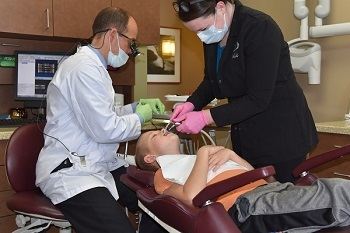 If you want more information on promoting healthy habits with your kids, check out our Kid's FAQ! It covers all the common questions parents ask us about brushing, flossing, and more!