Simple Ways to Promote Healthy Dental Habits with Your Children
Kids might not always know their teeth are in trouble. They might not notice if an adult tooth is loose because they're used to their baby teeth wiggling. In fact, many kids ignore problems with their teeth since they don't know how to identify what is wrong. If you're worried your child might have dental problems, try using the following questions from Total Care Dental to get learn more:
"Does anything hurt or feel different?"
While it might seem obvious, the most direct approach sometimes works. With kids constantly growing and going through so many changes, they might not realize a permanent tooth shouldn't be wiggling or their gums shouldn't bleed while flossing. Make it clear your child is not in trouble, as they might be embarrassed to realize their mouth isn't as healthy as they thought.
"How do you brush your teeth?"
Ask your child to demonstrate how they brush their teeth. Even if they're old enough to do the task by themselves, they might not be brushing long enough or getting hard to reach spaces. The suggested brushing method is to make small circles over the surface of each tooth to remove plaque and leftover food.
"Do you like your toothbrush?"
If the brush is too big, your child might not be reaching their back teeth and only brush their front teeth instead. The dentists of Total Care Dental will help your child find the right sized brush for their mouth.
"Do you like your toothpaste?"
Fluoride toothpaste can sometimes be overwhelming to younger kids. There are many types of toothpaste designed with kids' tastes in mind to encourage regular brushing. Or try getting a tube of toothpaste with their favorite movie or TV character on it. Next time you're at the store, let your child select their own toothpaste to get them excited about brushing.
"Do you know how long to brush?"
The ideal amount of time to brush is 2 minutes. Since 2 minutes can feel like a very long time for a child, many will go much faster, resulting in a haphazard cleaning. There are some electric toothbrushes which come with lights or sounds to help kids brush for the necessary amount of time. Split up the two minutes if your child is younger or has trouble concentrating. Set a timer so they know how long they have left.
"How many times have you brushed today?"
Try to ask this before your child gets ready for bed. If they missed brushing their teeth earlier in the day, you'll want to make sure they get a quality brushing in before going to sleep.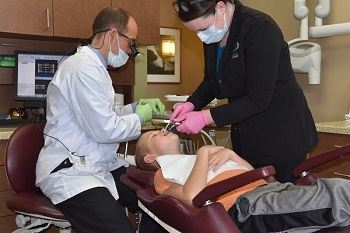 If you want more information on promoting healthy habits with your kids, check out our Dental FAQ! It covers all the common questions parents ask us about brushing, flossing, and more!