Fun Dental Checkups for Kids in Dane County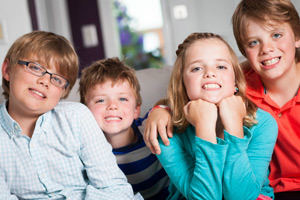 Pediatric dentistry is an important part of maintaining your child's health as they grow up. Yet many children are scared of gong to the dentist. The experience can be scary even for adults! Total Care Dental's practices are all about making the dental checkups a rewarding experience for kids so they can get the care they need without any anxiety or fear.
A little extra time and attention ensures kid's visits are special and lets them have fun at our Madison family dentist! At the end of children's dental appointments we give kids balloons and prizes. When kids have a check-up with no cavities found, they get to enter the Kids Club for a chance to win a gift card or other prizes! TCD makes sure our dental practices are rewarding for children to encourage great oral health habits to last a lifetime.
Pediatric dentistry services include:
Preventative Dental Care for Children
From creating a positive atmosphere to encouraging good oral habits for a lifetime, our dental experts keep your child's needs in mind. TCD's preventative dental care philosophy includes pediatric dental examinations, x-rays as necessary, the use of pit and fissure sealants, fluoride treatments, and regular cleanings. Typically, our dentists check for decay and looks at your child's gums, jaw and bite. We then discuss good oral-hygiene habits and answer any questions you have about thumb sucking, toddler teething, what foods are tooth-friendly for your child and more.
Why is it so important to promote healthy oral hygiene habits with your kids? Many parents don't realize dental health can have a direct correlation to your child's wellbeing! Cavities and gum disease take kids away from school for treatment. Healthy teeth can lead to higher levels of self-esteem, lower levels of oral discomfort, and more overall health as they grow up. This is why it is important to take your kids for twice yearly checkups and teeth cleanings at Total Care Dental. Healthy oral hygiene habits help your children have strong, vibrant smiles to carry them into successful adulthood.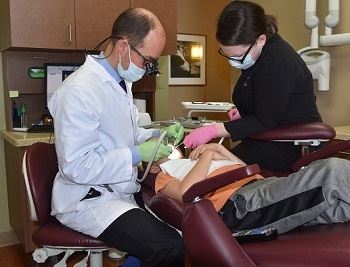 Experts Recommend Early Dental Visits for Children
We recommend children start seeing one of our family dentists at around age 3 for annual checkups. An initial visit when their first tooth is visible is also recommended to see how their baby teeth are coming in. This usually happens between 6 months and 1 year. Creating a strong rapport on a child's first dentist visit helps to create a comfortable environment so they won't be afraid at future appointments. Our Kid's Zone waiting area has dentistry-themed games, movies, and books to help put children at ease before their appointment.
To prepare your child for their first dental appointment, you should begin covering the basics of oral hygiene. It's been proven time and time again: positive reinforcement is much more effective than punishment of any sort. Telling a child what will happen if they don't brush their teeth is a form of punishment. Instead, it's best to tell them the benefits of brushing their teeth and taking care of their mouth. Encourage your child to brush their teeth because brushing produces beneficial outcomes.
Make dentist appointments more fun by taking your child to the ballpark or their favorite restaurant after their cavity-free checkups. Reward their good brushing habits behavior and it is much more likely to continue. Try asking these dental questions for kids to get a better idea about their oral health habits in-between dentist visits.
TCD Kid's Zone: A Fun Way to Learn About Dental Health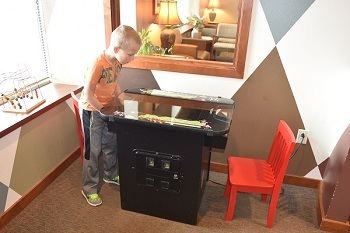 Our great Kid's Zone, created by child-friendly Madison dentists, is the perfect place for kids to play before and after appointments! It's stacked with toothsome books, games, and TV for kids to enjoy. We also have a classic cocktail table arcade game, so kids can play Ms. Pac-Man and Galaga too!
The Kid's Zone is part of our efforts to make kids feel comfortable when coming to the dentist. It is not uncommon for children to be afraid of the dentist before entering the office. Get your kids into the dentist as early as possible, before they see popular media portrayals of dental horror stories. It's the same thing as brushing our teeth—developing good habits early on in life is the best way to ensure those behaviors continue as they grow.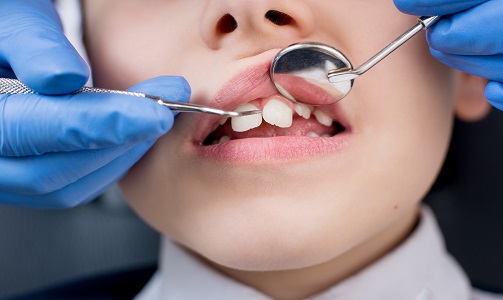 Dental Checkups for Teens
Once baby teeth have finished falling out, our dentists can determine whether your teen will need braces to straighten their teeth. Total Care Dental has Invisalign clear braces instead of traditional metal braces. This options lets teens get straight smiles without feeling self-conscious.
Teens who participate on sports teams and athletic events should get custom-fit mouth guards from our dentists. Many schools require students to have mouth protection in order to play on an official team. Wearing a mouth guard can prevent teeth from shifting or falling out after trauma.
Switching Pediatric Dentists after Moving: Helping Kids Adjust
Switching dentists can also be a scary experience for kids. The setting is different. The people are new and unfamiliar. People are generally hesitant of the things they don't know. The Kid's Zone at our Madison clinic is a great way to have your kids relax when switching dentists. Even older kids love the cocktail table arcade game and watching TV!
Total Care Dental has Lifelong Dentistry Services
We make the going to the dentist a positive part of people's lives at all ages. A healthy mouth is a great indicator of a healthy human being, and a confident smile is often the product of having a healthy mouth. Enjoy life and smile without having to put your hand up to cover your teeth. At Total Care Dental, we serve entire families with the dental services they need for life.
Bring your kids in today and experience the Total Care Dental difference! Read our dental FAQ for more information.