Invisalign Aligners Available in Madison
Cosmetic Dentist Provides Invisalign Clear Braces in Dane county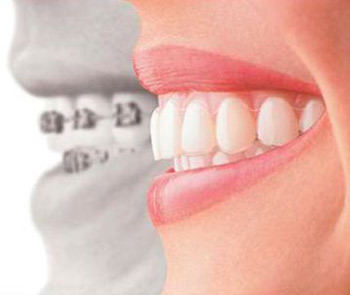 For teens and adults, getting braces can be embarrassing. At school, metal braces are very obvious and can hurt a teen's self-esteem. In a business setting, braces can seem unprofessional or be a distraction. If you have crooked teeth but don't want metal braces, our TCD Madison cosmetic dentist offer Invisalign clear braces to our patients. Invisalign braces give you a stunning, straight smile without noticeable metal braces.
Invisalign uses a series of clear, comfortable, and removable aligners to gradually straighten crooked, gapped, and crowded teeth. Straight teeth are more than aesthetically pleasing: they mean healthier gums, easier cleanings, improved chewing and speech function, and decreased risk of future tooth trauma. By wearing clear aligners from Total Care Dental, you can avoid the negatives of visible braces while enjoying all the benefits.

Comfortable Alternative to Braces for Teens and Adults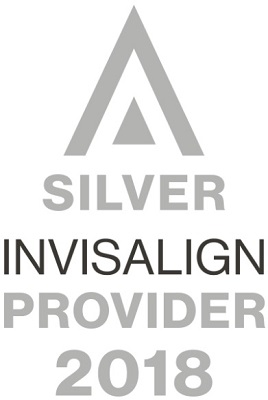 Invisalign braces are smooth, comfortable, and easier to use than metal braces by eliminating the need for metal brackets and wires. The aligners are made of a strong medical-grade plastic which correct spacing, crowding, and bite problems with great precision. Invisible braces feature a compact design, simply adjusting to your teeth and mouth shape.
You won't have to give up your favorite hobbies or activities when you use Invisalign. Metal braces can cause injuries to the mouth during sports or other athletic activities. If you're active in sports and worry about metal braces cutting your mouth, these clear braces are easily removable so you can wear a mouth guard instead.
If your teeth only need a few small corrections to appear straight, ask about our dental contouring service. This procedure gently reshapes your enamel or gums to improve the appearance of your smile.
How Do Invisible Braces Work?
Invisalign braces consist of several aligners made to custom fit your teeth. Total Care Dental dentists will use X-ray and other technology to accurately size your teeth before ordering aligners. Just like metal braces, they slowly shift the position of your teeth until it results in a straighter, healthier smile. Unlike metal, they are virtually invisible.
Each aligner is worn for approximately 2 weeks, removing them only to eat, brush, and floss. This means no worrying about getting food caught in your braces. These flexible aligners won't get in your way like metal braces and you won't waste time trying to floss food out of your teeth under the metal. As you replace each aligner with the next in the series, your teeth will move little by little until they have straightened to the final position.
On average, Invisalign braces take 8 to 12 months to work, though some cases take even less time. Traditional braces may need to be worn for two years or more to take full effect. Our professional Madison family dentists will personally take care of your case and provide you with the absolute best customer service. Our mission is to make every cosmetic dental procedure go as quickly and painlessly as possible.
Signs Your Child Needs Braces

Signs You Need Braces as an Adults

Food gets stuck between teeth
Trouble brushing, flossing, or talking
Discomfort or pain in the mouth
Noticeably crooked or spaced teeth

It can be hard to tell when teens need braces if they still have baby teeth. The natural gaps caused when baby teeth fall out can make it difficult to see if the adult teeth are growing in correctly. X-rays and regular exams at our Madison dental clinic will track the progress of emerging teeth to see if they are straight and healthy. If not, we can begin treatment with Invisalign clear braces.

Trouble brushing or flossing
Discomfort or pain in the mouth
Noticeably crooked or spaced teeth
You once had braces and have not worn a retainer

There are many reasons adults need braces. Your tooth can change position due to injury or the eruption of wisdom teeth. Sometimes, the effects of braces you had as a teen will fade. Teeth can move and shift as we age, leading to once straight teeth becoming crooked. A retainer can be used to prevent this, but not always. In these situations, Invisalign is a convenient way to quietly correct your smile without anyone noticing.
Don't wait to get braces! While it may seem inconvenient, waiting to get corrective treatment will allow your tooth to grow more crooked and spaced.
Facts about Invisalign Braces
Invisalign is an exciting development in the dental world. There's finally a way to straighten teeth without the need for painful, uncomfortable metal braces. It's more affordable than you might think, and your insurance may even cover the treatment. Here are some more facts about Invisalign braces:
Every patient has a custom treatment plan, since no two cases are identical
Invisalign braces are virtually invisible
Treatment involves a set of custom braces which gradually shift your teeth over time - you receive a new set of aligners about twice a month
Invisalign braces are great for people who play contact sports like hockey and football. Simply remove your aligners, put on your mouth guard and play!
There's no need to sacrifice the foods you love, Invisalign allows you eat anything you want
Brushing and flossing is a breeze, because you don't need to work around hard metal braces
Invisalign braces won't irritate cheeks and gums like normal braces. Made of smooth plastic, you won't even know Invisalign is there
Orthodontist visits are only every four to six weeks
Many dental insurance plans cover Invisalign braces as if they were normal braces, and the cost is comparable
On average, Invisalign braces can treat anything normal braces can in roughly the same amount of time

Health Benefits of Straight Teeth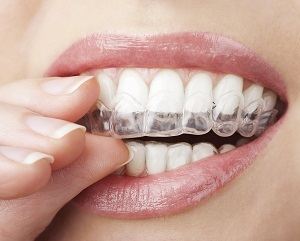 Straight teeth don't just make your teeth look better – they improve your oral health! For starters, it's easier to brush and floss properly aligned teeth.
Straight teeth can help prevent:
Cavities
Jaw bone decay
Loose teeth
Gum disease
Tension headaches
Crooked teeth can create gaps where bacteria can thrive. The more germs in your mouth, the higher your chances of poor oral health. Visit our dentists for more information on the health benefits of Invisalign.
Affordable Invisalign Treatment for Adults and Teens
Invisalign aligners are similar in price range to traditional braces with the extra benefit of being removable and discrete. The final cost will be determined by your exact needs, as every set of Invisalign braces is customized on an individual basis.
Start with a complimentary Madison cosmetic dentistry consultation to see if Invisalign is the right option for you. Low cost dental care Madison payment options are available including 24 month interest-free (0%) financing through Care Credit.
See Invisalign for yourself.