Under Armour Sports Mouth Guard
Protect Your Teeth from Trauma with Madison Dental Care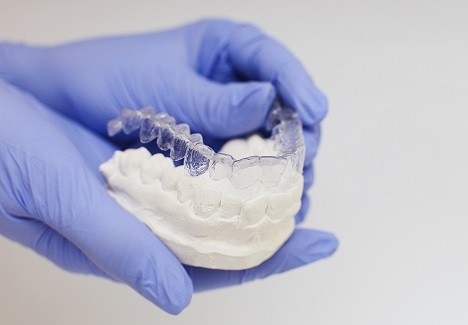 Total Care Dental's Madison dental health care services include administering UA Performance Mouthwear, some of the best sports mouth guards on the market today. Visit your comprehensive Madison dentist at Total Care Dental for more information.
Under Armour Performance Mouthwear ™ has been engineered to unlock your power and potential.
It's all in you, but blocked by one of the human body's instinctive reflex systems – teeth-clenching. With safe, custom-built UA Performance Mouthwear, athletes in any sport from football to golf to hockey can capitalize on innovation which makes you stronger, faster and better. Whether you need protection in contact sports or you just want to improve your game, Under Armour Performance Mouthwear ™ with ArmourBite ™ Technology gives every athlete an edge.
UA Performance Mouthwear helps the human body help itself by unlocking the power of the jaw. Patented ArmourBite ™ Technology prevents your teeth from clenching and pivots your jaw forward to relieve pressure on the TMJ. Gone are the excess negative hormones and the energy-draining effects, so the body can now unleash its full potential.
Which sports require the use of a mouth guard?
Mouth guards are optional but recommended for many athletic hobbies as well, including:
Different athletic activities place different strain on the teeth. While it might be obvious for someone involved in contact sports to wear a mouth guard to prevent teeth being knocked out during a tackle, many non-contact sports participants don't realize a mouth guard is beneficial to them too. Any sport which involves high speeds, heights, or movement should consider using a mouth guard to prevent dental damage. Even a recreational bike rider could benefit from a mouth guard in the event of a fall.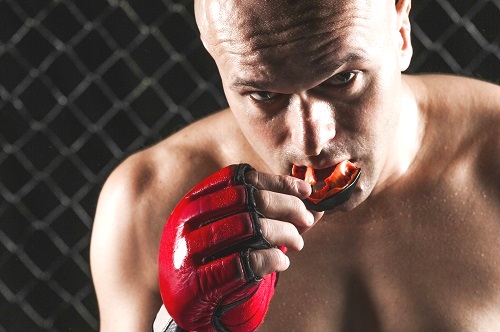 Independent studies conducted at some of the nation's top universities and research centers have proven the undeniable advantages of UA Performance Mouthwear.
With improved airflow and less stress from clenching, UA Performance Mouthwear has been proven to increase strength by an average of 17% with the UA Performance Mouthpiece and 12% with the UA Performance Mouth Guard.
UA Performance Mouthwear enlarges airway openings, resulting in 25% less lactic acid build-up after 30 minutes of intense exercise.
Athletes may respond faster when wearing UA Performance Mouthwear. Clinical trials show an improvement in responding to auditory cues and potential improvement in response to visual cues.
Excess cortisol causes stress, fatigue and distraction. UA Performance Mouthwear decreases cortisol production, which means you feel and play better. And the right mouth guard means you don't have to worry about an accidental tackle damaging your smile.
When the jaw suffers an impact, energy can be transmitted to the head, which can cause concussion. UA Performance Mouth Guards have been shown to reduce the G-Force impact of blows to the jaw by up to 20%.
Night Guards for Protection While You Sleep
Conditions like bruxism or TMJ can cause teeth grinding while you sleep. Custom night guards for your mouth protect your teeth and let you sleep soundly. In some patients, nightly grinding is a sign of sleep apnea. Visit our Madison dentists if you grind your teeth at night for information on bruxism and sleep apnea treatment options.