Four Life Changing Implants in Madison
Get a Brand New Permanent Smile in One Dental Visit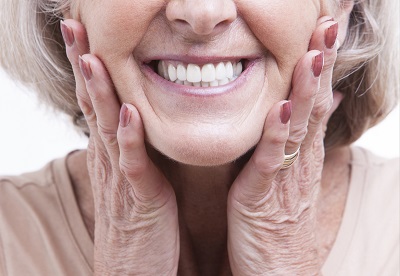 Total Care Dental in Madison is proud to offer Four Life Changing Implants to create a brand new permanent smile in one visit. This procedure replaces all your missing teeth to improve your oral health and give you a beautiful new smile. Schedule a consultation with Total Care Dental if you want to more information on replacing your missing teeth with a natural, permanent implant system.
It is incredibly common for adults to be missing almost all of their teeth. Teeth can fall out as you age or be knocked out all at once during an accident. Whatever the reason, replacement with Total Care Dental's Four Life Changing Implants will save you money and make your smile beautiful again.
How Total Teeth Replacement Works in One Visit
The process for Four Life Changing Implants is similar to the installation of traditional dental implants. First, all your existing teeth are extracted. Four posts are screwed on the top or bottom of the mouth. They go from the top of the gums down into the bone of the jaw. The implant sections are then securely connected on all four screws. To replace teeth on the top and bottom, eight total implants are used.
Using only four or eight implants makes our process less invasive than using up to 32 individual dental implants for each missing tooth. Replacing individual teeth one at a time also takes much longer since more posts will have to be screwed into the jaw and the gums have to heal before the crown can be added. Our Life Changing Implants process can be completed in one appointment after your initial consultation.
Smile with Brand New, Beautiful Teeth
Why replace your missing teeth? Without all of your teeth, your oral health and appearance will suffer. From a cosmetic standpoint, missing teeth can cause your mouth to appear sunken, prematurely aging you. The jaw bone will begin to deteriorate wherever teeth are missing, weakening the roots of any remaining teeth. Eating and talking without all your teeth can be difficult or painful.
Let our dentists give you a brand new smile all at once with Four Life Changing Implants. The new implants feel and function just like your natural teeth. Each crown is customized to be the size, shape, and color you want so you instantly have a beautiful new smile. The four posts in your jaw prevent bone deterioration as well.
Every patient's oral health is different. Before you go for our Four Life Changing Implants, consider our other replacement options. Our dentists offer free cosmetic dentistry consultations for Madison patients interested in improving the appearance of your current smile. We may find a more effective option for repairing your smile you than our implants.
Affordable Alternatives to Dentures
Removable dentures are the most common way to replace all teeth at the same time. While professionally made and shaped dentures are very effective at comfortably replacing teeth, Four Life Changing Implants provide a more permanent solution which many TCD patients prefer. Ask our dentists which option is best for you.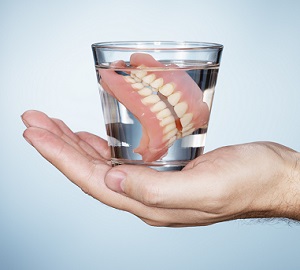 There are some key differences using this removable dentures instead of Four Life Changing Implants:
Dentures can move around the mouth if not secured, making it hard to eat or talk. Special gel adhesives can hold dentures in place, but they only last for a certain amount of time and can be messy. Dental implants require no adhesives as they are connected directly to the jaw bone and create a natural, secure bond between your new teeth and gums.
You may have some soreness in your jaw and gums up to a few months after the implant process, though this will fade with time. Dentures can cause daily discomfort if they do not fit properly.
Caring for dental implants is easy, as you brush and floss them just like natural teeth. Dentures can be brushed and flossed, but also need to be regularly removed for deep cleanings.
Our Madison dentists will give you a thorough exam to determine if Four Life Changing Implants, dentures, or regular implants are the best option for your tooth replacement. Discover which tooth replacement option is best for you.
Dental Implant Recovery
After receiving your new Four Life Changing Implants, you'll begin the recovery process. You should take 2-3 days to relax and adjust to your new teeth. As mentioned above, there may be soreness in the jaw for some time after surgery. Using ice packs will reduce pain and swelling.
Soft foods and liquids are recommended during the first few weeks of recovery. How long until you can have solids will depend on how fast you are healing and if your mouth is in any pain. A saltwater rinse should be used for the first day to clean your mouth. You should then resume normal brushing habits, although be gentle around the implant areas.
Common side effects include:
Swelling
Dry lips
Minor bleeding
Soreness
Total Care Dental Makes Dental Implants Affordable
We offer a better dental experience in every regard. Schedule a consultation with our dentists to determine if dental implants are the best option for improving and restoring your smile. Four Life Changing Implants are not right for everyone. Other options include individual dental implants, dentures, and crowns.
We accept most major dental insurance plans and financing options so you can afford total tooth replacement. Everything is possible with a beautiful, healthful Total Care Dental smile. With Four Life Changing Implants, you can finally say goodbye to hiding your chipped, broken, or imperfect teeth and greet the world with an incredible smile.