Porcelain Veneers Dentistry Madison
Best Cosmetic Dentist for Porcelain Veneers
Total Care Dental provides Madison's best cosmetic dentistry services. One of the quickest and easiest ways to instantly improve your smile and overall appearance is with porcelain veneers. Veneers are ultra-thin shells of enamel-like porcelain which are handcrafted by master dental ceramists and permanently bonded to the front of the teeth. Porcelain is just as strong, if not stronger, than your natural enamel. Like bonded veneers, porcelain veneers are a quick and easy way to improve your smile.
Why Choose Porcelain Veneers?
Many people are embarrassed by imperfections of their teeth and hide their smile from the world. At Total Care Dental, we want to give you a bright and beautiful smile you'll want to share. Porcelain veneers resemble natural enamel and are designed to remain a bright white color and resist stains. These veneers are also less prone to chipping, and mimic the light reflecting properties of natural teeth.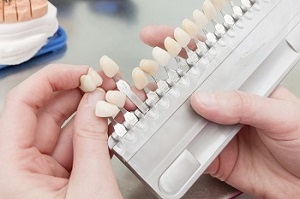 Porcelain dental veneers provide a range of advantages:
Natural tooth appearance
Easy on gum tissue
More stain resistant than bonded veneers
Makes dark teeth look whiter
Changes tooth shape without extensive shaping work
Long-lasting (up to 15 or more years with proper care)

Who Should Get Porcelain Veneers
Veneers are ideal for people who want to significantly change the shape and appearance of their teeth without using crowns. Porcelain veneers not only create beautiful, bright smiles, but also protect damaged teeth and may prevent the need for more extensive dental procedures.
To be considered as a candidate for porcelain veneers, a client must meet certain dental health requirements:
Good overall oral health
Committed to proper oral hygiene
Have a sufficient amount of healthy, natural enamel
Although porcelain veneers are more costly than bonded veneers, they are a worthwhile investment. With proper care and design for function, porcelain veneers can last at least 20 years, if not longer. We offer a variety of payment options, and accept most major dental insurance plans. We also offer a 5% discount to patients without insurance for services over $300, when paid in full before any treatment.
Porcelain Veneers Customized for Your Ideal Smile
Porcelain veneers are usually cosmetic and can correct a variety of aesthetic concerns about teeth which are:Porcelain veneers are often used for cosmetic reasons and can correct a variety of aesthetic concerns about teeth. However, they can also fix dental problems by making it easier to chew or talk.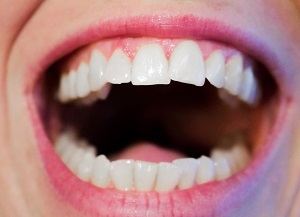 Several issues veneers can correct include:
Too small or too large
Crooked, uneven, or misaligned
Discolored, stained, or dull
Worn down
Broken, chipped, or cracked
Misshapen
Gapped or abnormally spaced
If you ever feel embarrassed or self-conscious about your smile, talk to your dentist to find out if porcelain veneers are right for you.
Veneers: A Tooth Whitening Alternative
Porcelain veneers are one way to whiten teeth which have been discolored by smoking, medications, or tetracycline antibiotics. While we offer two hour teeth whitening procedures, deep discoloration may not be treatable.
Additionally, patients with very sensitive teeth may not be able to safely receive traditional whitening treatment without causing pain. Applying veneers is a safe way to whiten your sensitive teeth.
What to Expect When Getting Porcelain Veneers
Total Care Dental is proud to partner with the highest quality labs in the country for all our cosmetic dentistry supplies, ensuring you receive the best veneer to restore your naturally beautiful smile. The procedure for applying porcelain veneers is simple:
In a preliminary appointment, your dentist will take X-rays or perform a physical examination and discuss what you would like to achieve.
We will remove the top layer of your enamel when putting the veneers on (only about half a millimeter).
An impression of your teeth is taken and sent to a lab, where porcelain veneers are custom designed. This impression provides accurate and precise measurements of your teeth, ensuring the veneers will fit properly. It takes a week or two to prepare the veneers.
Your teeth will be thoroughly cleaned and lightly buffed, allowing the thicker veneers to fit comfortably.
Next, the veneers and adhesive will be bonded to your teeth with a special cement hardened by a UV light.
This simple procedure requires little to no anesthesia, and the veneers are applied in a single appointment. Your new veneers require the same oral hygiene routine as your regular teeth: brushing twice a day and daily flossing. Your Madison dentist may want to schedule a follow-up appointment a few weeks later to make sure the veneers are properly placed and attached and to answer any of your questions. You'll leave our office with a brand new smile and renewed confidence.
Reveal Your Most Beautiful Smile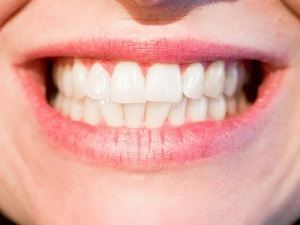 We encourage you to take a tour of our Madison dentistry gallery to see how porcelain veneers not only create stunning smiles but also change lives. Our veneers offer incredibly lifelike results, and instantly restore a patient's confidence. The results are amazing!
Whether you are have an uneven smile, gaps between your teeth, discoloration, chips, or any other unwanted teeth problems, porcelain veneers can be the answer to your problems. Having our Madison cosmetic dentist apply your veneers means you will gain new confidence with the smile of your dreams. Don't hide your smile any longer, get it corrected with porcelain veneers from Total Dental Care.