Madison Dental Restoration
Local Dentists Provide Dental Restoration Services to Improve Oral Health
Total Care Dental offers Madison dental restoration services and treatments to return your teeth to their healthiest state. Damaged teeth and associated pain can disrupt our daily lives, so it is essential to repair any issues. Our dental health professionals are devoted to comprehensive dental treatment and care, providing you with a happy, healthy smile. Don't let uncomfortable, damaged teeth keep you from smiling; take action with restorative dental services. State of the art technology allows us to relieve discomfort and ensure your teeth function properly. Let our experienced, caring Madison family dentists repair your dental issues and restore your oral health.

TCD Restorative Dentistry Services Include:

Restorative Dentistry for Pediatric Patients

Despite proper oral care and regular cleaning appointments, occasionally it is still necessary for our younger patients to get a restorative dentistry procedure. Typically, this is just a routine filling for a cavity. However, in some older pediatric patients who have already lost their baby teeth, crowns, bridges or implants may be necessary to repair a tooth and restore the full function. Crowns and bridges will not be used on baby teeth, though if an adult tooth doesn't grow in, a dental implant is an excellent option without compromising the jaw bone and tissue.
We'll walk them through the entire procedure and explain the process, easing any anxiety which may arise. If you have any questions or concerns regarding our pediatric restorative dentistry services, don't hesitate to contact us, we're always happy to help.
Our dental clinic is incredibly kid friendly and our Madison Kid's Zone is popular with children of all ages. We give our young patients extra time and attention to form a positive relationship, encouraging healthy dental habits to begin at a young age.
Restorative Dentistry Techniques
Traditional restorative dentistry techniques have developed a reputation for being long and painful services. Many people still have a crippling fear of the dentist which keeps them from seeking necessary dental treatment, leading to more costly and invasive dental procedures. Thanks to new technology and improved techniques, many of the restorative dentistry procedures are quick and relatively pain free. Root canal therapy, tooth extractions, and dental fillings can be completed in just one visit!
Our experienced team of dentists is trained in the newest industry techniques, using cutting-edge equipment. By offering this advanced technology, all of our patients receive shorter, more comfortable visits. We're happy to discuss our restorative dentistry procedures with our clients, feel free to contact us at any time!
Our Madison Dental Restoration Services Include:
Dental Fillings

Cavities and other defects can compromise the entire infrastructure of a tooth. Our professional dentists use a composite resin filling to match the aesthetics of your teeth while providing a strong support system. Composite fillings restore most of your original tooth strength, preventing further tooth decay and dental health issues. Learn more about the dental fillings Madison relies on.

Dental Crowns and Bridges

Dental crowns restore the form, function, and beauty of your teeth. Our Madison dentists provide high quality crowns and bridges to repair damaged smiles. Crowns are a superior way to restore severely damaged teeth and fill a space where a tooth is missing, respectively. Similar to dental crowns, bridges are used to replace missing or damaged teeth. Learn about our Madison dental crowns and bridges.

Dental Implants

Dental implants are the most beneficial advancement in dentistry, offering an innovative solution for missing teeth. With implants from our Madison dentists, you'll have lifelong replacement teeth which provide the comfort and stability you need. Best of all, dental implants look, feel, and function like your natural teeth. Find out more about the dental implants Madison trusts most.

Root Canal

A root canal treatment from our Madison dentists is crucial to treat an extremely deep cavity or nerve damage caused by tooth trauma. If left untreated, these conditions can cause you to experience pain, discomfort, and potentially lose your tooth completely. A root canal ensures infection is removed and the tooth is restored to a healthy state. Learn more about our Madison root canal treatments.

Dentures

Dentures provide a simple solution for the replacement of missing teeth and surrounding dental tissue. Our Madison dentists customize dentures to fit your mouth, ensuring they are comfortable and secure. Partial and complete dentures are available to provide you with a full set of functioning teeth. Find out more about the dentures Madison relies on.

Four Life Changing Implants

Four Life Changing Implants will replace all your missing teeth in one visit to Total Care Dental. This is similar to having a permanent set of dentures installed in your mouth. Four posts are implanted directly into your jaw to hold your new teeth in place. Like traditional dental implants, your new teeth will look, feel, and function like natural teeth.
RESTORATIVE DENTISTRY CONSULTATIONS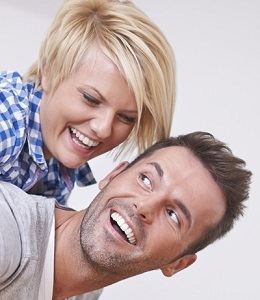 At Total Care Dental, we pride ourselves on taking the time to form a relationship with you and your family, allowing us to provide superior dental care customized to your unique needs. We will walk you through the entire procedure, explaining the process in an easy to understand way. We won't start any work without your full consent and understanding.
Our Madison dental clinic utilizes the latest research, providing our patients with exceptional care. We ensure your visit is a positive one. We're happy to schedule a free restorative dentistry consultation with you. Call our offices and ask for your free consultation today.
Visit the Dentist without Breaking the Bank
Worried about paying for your restorative treatment? Don't be! Our team will also sit with you to discuss your payment options and review your insurance policy so you know the cost upfront, with no surprises. You can even afford dental implants at TCD. With a variety of dental financing plans, you will always be able to afford the care you need. We know every situation is different and will work to find the right payment plan for you.
Stay Calm with Sedation Dentistry
Undergoing oral surgery can be scary. Our Madison dentists offer sedation dentistry to keep our patients calm before, during, and after their restorative procedure.

Contact our Madison dental clinic to learn more about our restorative services and to schedule a dental restoration appointment.