Dental Implants for Madison Patients
Restorative Dentistry Saves Smiles with Realistic Implants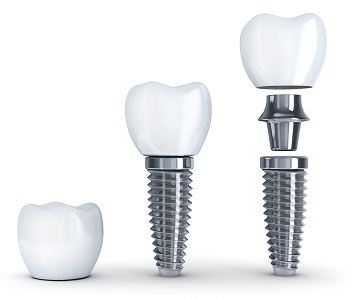 Dental implants are the single most important advancement in dentistry, offering a modern day solution for missing teeth. Small cylindrical titanium fixtures replace missing tooth roots and provide a stable base for replacement teeth which feel, function, and look like naturally beautiful teeth. Dental implants are the most reliable tooth replacement option available, with over a 95% success rate backed by almost 50 years of practical clinical research. They are designed for a lifetime of use.
At Total Care Dental, our local family dentists take extra care to ensure the best results. Along with dental implants, our other restoration treatments include resin fillings for cavities, root canals, and dentures. Visit us for all your dentistry needs, from annual preventative checkups to cosmetic procedures.
Why Replacing Missing Teeth Protects Your Oral Health
Replacing a loose or missing tooth might seem like a purely cosmetic issues. Losing one or several teeth affects several health aspects of your mouth, not just the appearance of your smile. Every one of your teeth is surrounded by alveolar bone in the jaw. If you lose a tooth and do not have it replaced, the support bone will essentially degrade and melt away. The remaining teeth will begin to shift in order to fill the space. This causes bite alignment problems in addition to the aesthetic issues. Other facial structures such as your jaw, joints, muscles, and skin can also be affected by a lost tooth.
This will lead to further oral health problems if left untreated. One way to prevent this is to have an implant take the lost tooth's place as soon as possible, which may mean extracting a dying tooth to do it. Contact Total Care Dental to schedule a consultation if you have lost a permanent tooth.

How TCD Dental Implants Work
When your TCD dentist is replacing your tooth, they will first install a titanium implant directly to the jaw bone where the missing tooth was. There is a retaining screw in your implant which connects to an abutment connector. A crown is installed on top of the abutment connector, giving the appearance of a natural tooth and improving your smile.
If you have lost a tooth and time has passed causing the loss of the alveolar bone, there is still hope for implants. Though the alveolar bone is gone for good once it decays, a skilled Madison cosmetic dentist can recreate the bone through grafting, producing the support needed for an implant. This procedure cannot be completed in one appointment. Once the implant is placed, it needs time to heal before a crown can be installed. It generally takes a few months to complete the implant process, but the results are worth it.
Dental Implants are the only dental treatment which:
Prevents soft tissue and bone loss
Provides natural tooth hygiene
Eliminates the need to reduce and compromise adjacent teeth
Read our FAQ to learn more about all the benefits of this replacement option.

Dental Implant Procedure Complications
Certain pre-existing medical conditions can complicate the implant process. Conditions like diabetes or hepatitis may make it harder to successfully install the new implant. Dental implants may still be possible depending on overall patient health. For people with these conditions, alternative treatment options will be recommended by our Madison dentists.
Implants vs Dentures: Alternative Treatment Options for Missing Teeth
There are other options for replacing missing teeth than implants. Full and partial dentures are mostly used to replace multiple teeth at a time and are removable. Dental bridges generally replace damaged teeth which have not yet fallen out, using the surrounding teeth to create a support system. Finally, our Four Life Changing Implants use only 4 implants to replace all of your teeth in a single dental appointment.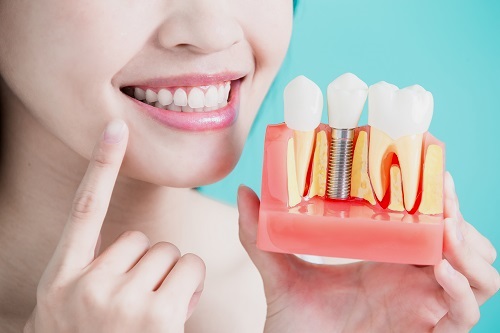 These traditional options are right for some patients, though every case is unique. A consultation will review possible problems with comfort, aesthetics, stability, and longevity. The goal of our dentists is to give you replacement teeth which will positively impact your confidence, nutrition, and overall wellness. TCD dentists will walk you through all your choices to ensure you are getting the best benefits for your teeth. It is likely dental implants will be the best option for restoring your missing teeth.
Implants can replace a single tooth or multiple teeth, stabilize dentures, or even replace dentures completely with Four Life Changing Implants. Please tour our Before & After Dentistry Gallery and see why dental implants should be your preferred choice for modern day tooth replacement. Learn about all the dental replacement options available at our Madison clinic.
Madison's Affordable Dental Implants
The cost of dental implants will vary from patient to patient. When you have missing teeth you want replaced, you shouldn't have to worry about payment. Total Care Dental offers a multitude of financial dental plans to help all of our Madison patients afford the restorative dentistry they need. We accept cash or personal check, credit cards, CareCredit cards, Illumisure, and most major dental insurance plans. If you are uninsured, we offer a 5% discount when $300 is paid in full before treatment.
Everyone deserves to have a the health and cosmetic benefits of a complete set of teeth. Schedule a consultation with our Madison dentists to get your beautiful, healthful, Total Care Dental smile.