DENTIST FOR mount horeb, WI FAMILIES
Ensuring good dental health is essential for your general wellness, and at TCD Dental, we create a calming atmosphere for patients who may feel nervous about dental procedures in Madison. Our dental professionals prioritize ease and comfort, and our preventive dental services guarantee optimal oral hygiene from childhood to adulthood. By removing plaque and tartar, reducing inflammation, and preventing gingivitis and periodontal disease, we help you achieve a brighter, healthier smile. Regular teeth cleanings can also prevent plaque accumulation, which can potentially lead to heart disease and other severe health problems. Trust TCD Dental to keep your family's teeth clean and beautiful.
What to Expect at a Preventative Dental Appointment?
Typically, a routine dental appointment will consist of a comprehensive exam (evaluation of your mouth for tooth decay, periodontal disease & oral cancer) and professional cleaning. TCD Madison dentists will:
Examine your teeth, gums and mouth for signs of disease
Take updated x-rays of your teeth, if needed
Perform an oral cancer screening
Remove plaque buildup on your teeth and gums
Answer your questions and concerns
Dental Insurance Covers Preventive Care
Most dental insurance providers cover the costs of basic preventive care. TCD Madison accepts all the best Wisconsin insurers. We're happy to help you understand what is and isn't covered by your plan before you come in for an appointment.
Available Financing for Preventative Care Treatments
Don't delay preventative care for your teeth because of cost. We use financing plans to make treatment as affordable as possible. This includes available financing for patients with no dental insurance.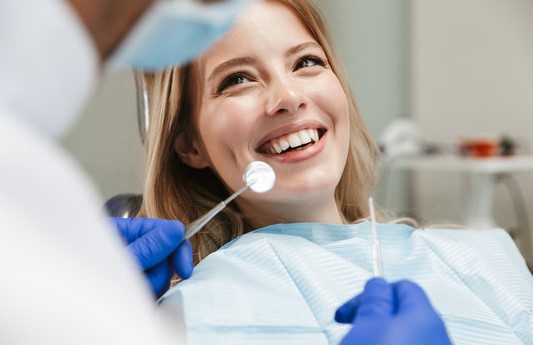 Other dental services we offer include:
Will my insurance cover dental implants and cosmetic dentistry in Mount Horeb?
Dental insurance providers can offer portions of coverage for implants and cosmetic dental services. When you work with Total Dental Care, we'll help you maximize your dental insurance coverage, whether you have Delta that only covers cleanings with a $25 co-pay, or have no dental insurance and are paying out-of-pocket. What matters most to us is you get both effective and affordable care that fits your needs.
Signs You Need Braces as an Adult
Orthodontic treatments for adults may be needed when teeth change position due to injury or the eruption of wisdom teeth. Teeth can move and shift as we age, leading to once straight teeth becoming crooked. A retainer, or mouth appliance that helps the jaw or teeth to keep their shape, can prevent this, but not always. In these situations, Invisalign is a convenient way to quietly correct your smile without anyone noticing. Other signs you may need a form of orthodontic therapy include:
Trouble brushing or flossing
Discomfort or pain in the mouth
Noticeably crooked or spaced teeth
You had braces and have not worn a retainer
Contact our dental clinic near Mount Horeb today!