How Custom Mouth Guards Protect Your Teeth
Save Your Smile with a Perfect Fit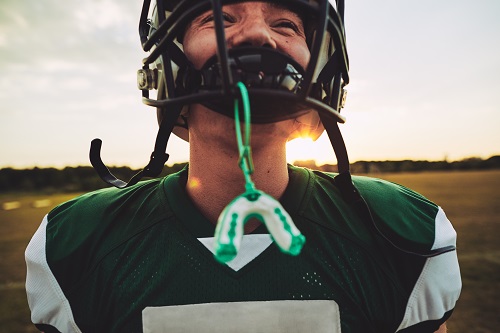 Football players never take the field without a helmet. Swimmers never enter the pool without eye goggles. Protective gear helps athletes stay healthy when they perform. One piece of equipment that's often overlooked – the mouth guard.
Athletes of all ages should have a custom-fit mouth guard as part of their protective equipment. And it's important to have a mouth guard which fits. Store-bought guards come as "one size fits all", which is not the case when it comes to teeth. In fact, wearing a generic mouth guard can cause more damage by slipping or shifting during activity. Custom-fit mouth guards from Total Care Dental won't fall out and are designed for the wearer.
Why do I need a mouth guard?
Collisions and accidents happen in plenty of sports. An errant elbow during a tackle can hit your mouth and break a tooth. Plenty of athletes have lost multiple teeth from heavy contact during gameplay. A mouth guard holds your teeth in one position. By securing your teeth, it's less likely for a single tooth to crack or come loose. Mouth guards also prevent accidentally biting your tongue or cheek.
Student athletes are usually required to have mouth guards, especially if they play a contact sport. Any sport which involves high speeds, heights, or movement should consider using a mouth guard to prevent dental damage. Even a recreational bike rider could benefit from a mouth guard in the event of a fall. Certain college and pro-level sports also make mouth guards a requirement. However, it is harder to enforce amongst adult athletes.
Benefits of Custom-Fit Guards
There is a common misconception about mouth guards impairing communication by making it hard to speak. This may be true of oversized mouth guards, but custom mouth guards let you speak clearly.
Mouth guards are good for more than just contact sports. Different athletic activities place different strain on the teeth. While it might be obvious for someone involved in contact sports to wear a mouth guard to prevent teeth being knocked out during a tackle, many non-contact sports participants don't realize a mouth guard is beneficial to them too.
Mouth guards should also be used by those with Invisalign braces. Aligners aren't designed to withstand heavy impacts from sports. A mouth guard is recommended instead.
What do I do if I injure a tooth during sports?
Get to your dentist ASAP! Don't try to finish practice or the game. The sooner Total Care Dental dentists can see you the greater the chances of fixing the problem. Even a knocked out tooth can be saved if addressed quickly.