Porcelain Dental Crowns & Bridges Madison
Fill in Gaps and Replace Damaged Teeth with Restorative Dentistry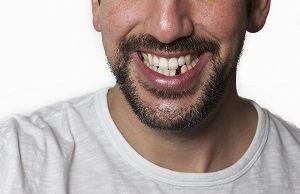 Missing or cracked teeth can change the appearance of your smile. Gaps can also have long term effects on your oral health. Total Care Dental's Madison team uses extreme care and attention to detail with all Madison dental restoration treatments and services, including porcelain crowns or bridges. These are used to replace missing teeth or protect damaged ones. Porcelain crowns and bridges are tooth-colored, enamel-like restorations fabricated by a highly skilled dental technician and permanently bonded to your existing tooth.
Porcelain crowns and bridges are completed in two appointments. Visit our gallery to view before and after pictures of teeth restored with porcelain crowns and bridges by TCD's skilled, comprehensive dental team. Schedule a consultation to learn how we can restore your smile with crowns and bridges.

What is the difference between crowns and bridges?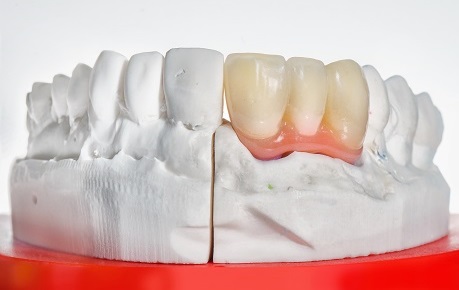 Crowns cover the entire tooth surface, restoring form, function, and beauty of original teeth. Crowns are needed when teeth are severely worn, fractured, or decayed to protect a weak tooth from breaking completely. You may also need porcelain crowns when the structure of your teeth have been compromised due to clenching and grinding of your teeth.
Dental bridges are used to replace a completely missing tooth. As the name suggests, a "bridge" is set up between the nearest remaining teeth to support the porcelain crown replacement. Unlike dental implants, the bridge does not directly connect to the gums or replace the root of the tooth. It simply supports the new tooth and jeeps it aligned with the surrounding teeth.
Crowns: cover an existing tooth
Bridges: Replace a missing tooth
Filling in Lost Teeth: Natural-Looking Replacements
There are many reasons for adults to lose their permanent teeth. Trauma to the face from sports, car accidents, and falling down can all result in teeth being knocked out. Cavities, gingivitis, and other oral hygiene issues can cause roots to weaken. A tooth with compromised roots can fall out while chewing or talking.
When a tooth is lost, it's vital to get it replaced as soon as possible. Porcelain crowns and bridges are natural-looking replacements for your missing tooth. Each tooth is carefully shaped and colored to best match your remaining teeth. We recommend getting teeth whitening in advance since the porcelain's color cannot be changed.
How Dental Crowns and Bridges Work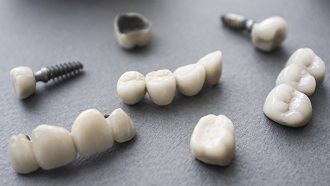 Crowns and bridges made from enamel-like porcelain work by covering damaged teeth and replacing missing ones. With crowns, the damaged tooth is reshaped by filing so the porcelain crown can be inserted directly on top with a snug fit. They act as a literal cap on your tooth, protecting it from further harm. Our Madison dentists cement the crown into place after fully enclosing the visible area of a tooth lying at or above the gum line.
Dental bridges can be used to fill a space where a tooth is missing. Since there is no tooth for the crown to cover, the nearest teeth are used as abutments to anchor the new tooth into place. The abutment teeth are given their own crowns which are directly attached to the replacement tooth. This keeps the entire dental piece firmly in place.
In some cases, your new crown or bridge may require cosmetic inlays or onlays. This is to ensure your new teeth look completely natural. Both inlays and onlays are placed within the grooves between the cusps of a tooth, the difference lies with the onlays which are also placed over the cusp tips as well. Porcelain dental crowns are applied in the same fashion as composite veneers. Your dentist will tell you which option is best for your tooth damage.
Alternatives to Dental Crowns and Bridges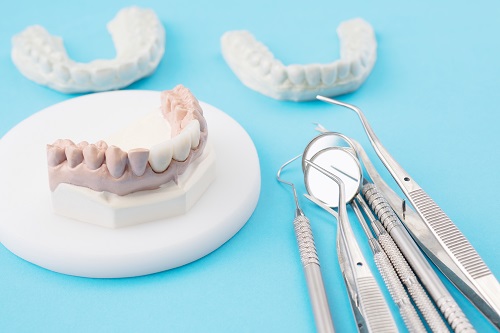 Dental crowns and bridges are not for everyone. Certain situations may require other replacements like dental implants or dentures. Make sure to check out all teeth replacement options so you are ready for your consultation. Dental implants are similar to crowns and bridges but are installed directly into the gum and jaw to replace a missing tooth. We offer Four Life Changing Implants to replace all your teeth in one dental appointment.
Paying for Crowns and Bridges with or without Insurance
When you receive dental care from TCD in Madison, there are many ways to pay for treatment. Our multitude of financial dental plans guarantees all of our patients are able to receive the care they need to have a beautiful, healthy smile. We accept cash or personal check, credit cards, CareCredit cards, Illumisure, and most major insurance plans. If you are uninsured, we offer a 5% discount when $300 is paid in full before treatment.
Our dentists will help you select the best tooth restoration service for your dental health and budget. Even if you don't have dental insurance, we want you to have a beautiful, healthful Total Care Dental smile.
Contact our Madison Dental Clinic for complete oral health care at 608-274-1911 or request a dental appointment online!