TCD is the Friendly Dentist Madison Relies On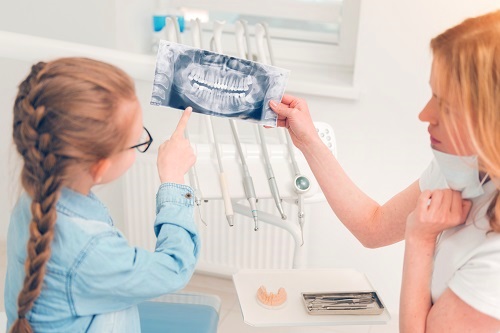 At Total Care Dental, friendly dental professionals take care of you from start to finish. We believe you should experience a state-of-the-art dental clinic with the best Madison dentistry services and equipment. Our team of professionals constantly reviews the wellbeing of each and every patient. Our commitment to dental procedures and finding the best options for you make us the best dental clinic in the area. We'll ensure your dentist reviews your child's hygiene practice and encourages good habits.
Better Dental Care from our Madison Professionals
TCD provides the best dental care for patients of all ages, throughout the greater Madison area. We have a proven track record of patient success, and we are the top Madison pediatric dental clinic. Total Care Dental is happy to accept new patients! We offer comprehensive dental services, including restorative, preventative and cosmetic dental procedures for families and individuals. Our clinic offers patients a warm, inviting atmosphere with HDTVs in each dental exam room and a beverage bar in our lobby. All our patients feel relaxed and at home with TCD Madison. Regular dental visits are a critical component of maintaining your overall well-being, and our team of dental professionals makes your appointments relaxing and stress free.
Our commitment to your dental health, restoration, and beauty shine through in every visit to our dental clinic! We are your Madison dentist. Our dedicated professionals take the time to get to know you in order to provide the best dental care and service. We are always thorough, explaining the process in an understandable way. Our entire team of skilled professionals is on top of the latest research and wants to give you everything you need to make your dental experience the best available. Read the customer reviews below to see what people are saying about our Madison cosmetic dental clinic!
Call our Madison dental clinic today for more information or to make an appointment!
Madison Dentist Reviews:
"EVERYONE on the staff makes you feel as if you are family! We love Total Care Dental! We recommend it to everyone!" - Tatum C, Madison, WI
---
"Total Care Dental provides thorough, comprehensive dental care. From my first visit years ago I was impressed by their emphasis on preventive care, which is best for overall as well as dental health. Prevention also saves me money!" – Anonymous
---
"I am completely satisfied with the work done by Dr. Salzmann and with his attention to achieve perfection - he is an artist." - Mary H, Madison, WI
---
"I recently switched to Total Care Dental and I have to say I am totally impressed. The level of technology they use made my visit incredibly comprehensive and the caring nature of Dr. Brett Clark and the entire Total Care team was amazing. Thanks for making me feel like a member of the family rather than a patient!" - Virginia G, Waunakee, WI
---
"Dr. Clark took the time to get to know me and performed a full exam of my teeth, teeth alignment/overbite measurements, jaw alignment and movement, gum health including probe depths. Most of this had never been performed by any dentist I had in the past. The hygienist was just as thorough and explained how to prevent gum disease with ongoing homecare in addition to regular cleanings. Everyone was very knowledgeable and seemed to be keeping abreast of the latest research and developments in dental care and disease prevention, and happy to share that information in a way that was understandable. This was probably the best dental visit I have ever had." - Josh H, Madison, WI
---
"Love the staff and professionalism at Total Care Dental. You make going to the dentist "fun!" - Todd S, Waunakee, WI
---
"You're doing everything right, and beyond right." - Doug V, Chicago, IL
---
"Excellent everything...very comfortable environment for all ages, sexes, and cultures. You guys really know how to make a patient feel pampered." - James H, Madison, WI
---
"My kids asked to return to the dentist the next day!! My 6 year old and my 3 year old both LOVE going to see Tracy. They are so comfortable throughout the experience and very much look forward to returning. I very much appreciate all of the details and considerations TCD makes for its patients. Thank you for all that you do!!" - Anonymous
---
"I have been very satisfied with Total Care Dental. I love the email appointment reminders / confirmations! Everyone is very friendly and knowledgeable." - Kylie C, Verona, WI
---
"I have referred at least 15 people to Total Care Dental. The staff is courteous, careful and very kind (not to mention fun!). They are particularly good with children (I have two young boys). I don't feel taken advantage of when I am there and am given quality time with the staff when I ask questions or bring up concerns. Highly recommended!" - Kristin R, Middleton, WI
---
"Today was wonderful. I not only got a wonderful cleaning, but I received very helpful advice about how to reduce the sensitivity of my teeth along with how to go about fixing my tooth that has recently begun to relocate itself. Finally, everyone was very friendly and I headed home with a top-notch toothbrush and sensitivity toothpaste, both of which I am extremely grateful for. Thank you for the wonderful visit! I love coming to you for my dental work, which should be made obvious based upon the fact that a visit requires a drive all the way to Madison from LaCrosse :D" - Christy K, LaCrosse, WI
---
"My son and I recently came in for teeth cleaning. During his cleaning, his hygienist discovered a few issues with his braces. Not only did Dr. Salzmann call the orthodontist himself, but Scottie, his hygienist, drove him to the orthodontist herself, while my teeth were being cleaned. We couldn't ask for better service or better care. We feel like family and are treated that way each time we come in. We love our dental facility!!" - Kathy H, Middleton, WI
---
"As usual Total Care is professional, courteous, and friendly. They want you to receive the best dental care and really seem to take your dental health to heart. You feel like a patient and not just a number. Great place." - Ralph K, Madison, WI
---
"The procedure was so non-invasive and gave me a permanently white smile that will make me look younger for years! Dr. Clark's artistic ability to create such beautiful teeth is greatly appreciated" - Joy, RDH
---
"I've never used the words "amazing" and "dentist" in the same sentence before!" - Ginny G, Waunakee, WI
---
"I have an absolutely terrible fear of the dentist, but Dr. Clark has turned that around! He was extremely respectful and understanding. He did not do any part of the exam without thoroughly discussing it with me first. The best dental experience I've ever had!" - Amanda B, Oregon, WI
---
"Dr. Clark came highly recommended by a friend. I'm glad I took their advice! My first visit to Total Care Dental was wonderful. The staff and Dr. Clark were very friendly and answered all my questions." - Anonymous