Benefits of Veneers
How Porcelain and Bonded Veneers Improve Smiles and Oral Health
Veneers are an easy, affordable way to improve the appearance of your smile. At Total Care Dental in Madison, we offer porcelain veneers and bonded veneers to our patients.
Customizable Teeth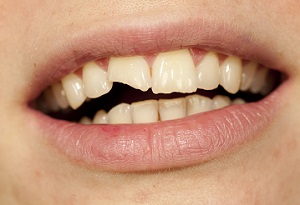 Veneers let you change the size, shape, and color of your teeth. During your free cosmetic dentistry consultation at Total Care Dental, we can go over all the options available for improving your smile. Veneers can hide imperfections and damage, including:
Chips
Cracks
Discoloration
Gaps
Crookedness
Uneven size
Since veneers cannot have their color altered, we recommend having your teeth whitened before veneer application. This way, your new veneers and unaltered teeth will all match.
Minimally Invasive Dental Procedure
Dentures and dental implants involve the removal of existing teeth. The extractions may have to be done in advance, leaving you without teeth between appointments. Porcelain and bonded veneers are applied directly over your current teeth. Since no extractions are necessary, veneer application is faster and less invasive than other dental replacement options.
Long Lasting Smiles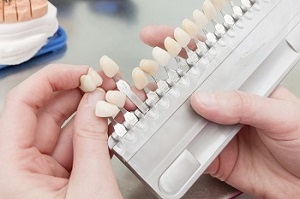 Porcelain veneers can last up to 20 years or longer while bonded veneers generally last between 5 and 10 years. Regular visits to our dentists will keep tabs on the veneers so we know exactly when to provide replacements. Eating certain foods and drinks may decrease the longevity of your veneers, so check with our dentists on how to best maintain your new smile.
Bonded veneers may not last as long as porcelain, but they are easy to remove when it's time to replace. In the rare event a veneer becomes dislodged, chipped, or damaged, a quick trip to our dental office will repair it and put it back in place.
Easy Cleaning for Veneers
Cleaning veneers is as simple as brushing your teeth. Veneers need to be brushed and flossed just like your natural teeth to stay clean and fresh. You do not have to remove your veneers like you would dentures.
The veneer provides an additional benefit by protecting the tooth underneath from damage.
Affordable Cosmetic Dentistry
Total Care Dental offers many financing plans to help our patients afford the dental procedures they want. If you do not have dental insurance or your plan does not cover cosmetic procedures, you may be eligible to receive a special discount. Just ask our staff about payment options for your appointment.